Flea & Tick Treatment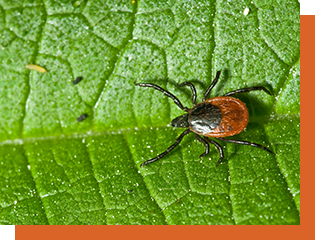 Intensive Flea and Tick Elimination Tactics

The team at OKC Mosquito Militia Total Pest Control are your specialists in the extermination of fleas and ticks. Our pest control experts can address your problem in an eco-friendly manner, servicing homeowners like you. We know that these tiny insects can be an extreme nuisance to pets and humans, plus they can transmit diseases. Therefore, we offer effective treatments to eliminate them from your home and yard.
Don't live amongst these biting, blood-sucking insects. Whether you have fleas in your home or have a tick infestation in your yard, our pest control team can provide you with the services you need to protect your home and family. 
Lay Siege To Fleas
A flea infestation is something you certainly don't want to deal with. Not only are the nuisance, causing itchy, red bites on your skin, but they also are extremely hard to get rid of due to their small size and ability to quickly lay eggs. Needless to say, a flea infestation can get out of hand quickly. It is common for fleas to attach themselves to dogs and cats, however, you don't need to be a pet owner to deal with a flea problem. These insects will feed off of any warm-blooded host, so just because you don't have fur and four legs doesn't mean you're out of the woods. With the expert team at OKC Mosquito Militia Total Pest Control on your side, though, we can help you live flea-free with our flea control in Oklahoma City, Edmond, and the surrounding area! 
Force Ticks To Surrender
Like fleas, ticks are not only a threat to your pets, but to you as well. Because they attach firmly to hosts and feed very slowly — often going unnoticed for some time — ticks are the most efficient carriers of disease, including Lyme disease, Rocky Mountain Spotted Fever, Ehrlichiosis, and more. While these diseases can negatively affect anyone, elderly people, people with weakened immune systems, dogs, horses, and livestock can be affected by a tick bite. While there are efforts you can take to prevent tick bites and bringing the blood-sucking insects into your home, for complete protection and peace of mind it is best to contact our experts for tick control. Our tick control treatments create a barrier around your yard and help keep ticks away, so you can enjoy your yard without worry.
Recruit The Experts To Armor Your Home From Fleas & Ticks
Don't let a flea or tick infestation get out of control. Enlist the team at OKC Mosquito Militia Total Pest Control to implement our effective flea and tick treatments! We have years of experience dealing with these bothersome insects, and our flea and tick exterminators will perform a detailed inspection of your home as well as your yard to determine the best treatment and preventative methods. Then, we'll use our effective treatments to eradicate fleas and ticks from your home and improve the comfort of your space! To request a free consultation for flea and tick control, contact us!
---
Contact Us Today For A Free Quote